last updated: November 2022
I am currently working on a point and click adventure game, between other projects and things. It involves musicians, detectives, and some absurdity. I am planning to restart production on it within the year, revamp existing assets and story, and hopefully get a demo out eventually!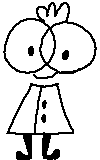 I have developed a demo for a level of a game that I may produce some day. Having worked on it in a Game Design course, I would like to refurbish it and make it playable and enjoyable for the public. Who knows when that will be...?