last updated: February 2023
I had been working on a point and click adventure game, between other projects and things. It involves musicians, detectives, and some absurdity. Unfortunately the project is currently on hold but may come back eventually. Cross your fingers/appendages!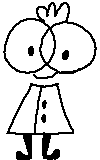 I have developed a demo for a level of a game that I may produce some day. Having worked on it in a Game Design course, I would like to refurbish it and make it playable and enjoyable for the public. Who knows when that will be...?